A larger dining area with the louvred roof
The event location Playa in Cologne has invited to celebrations and sports activities for over 20 years, Manager Lars Meyer has expanded it from a pure beach volleyball location to an establishment with a full-time beer garden. For this, a resilient patio roof was called for, which enables flexible adaptation to the weather situation. In spring 2019, the new louvred roof Artares from weinor, which now spans an imposing area of 160 m2, was selected.
Originally, the beer garden was protected by temporary roofing, which had to be moved, dependent on the season and weather situation. As this was very time-consuming and rather unpractical, its replacement with fixed, but also flexible weather protection was planned. Sun protection, rain security and a stylish look were the requirements of the roof construction. "We needed roofing which meets the highest requirements," as the operator Meyer reports, "however it wasn't very easy at all to find something which is really functional and visually appealing."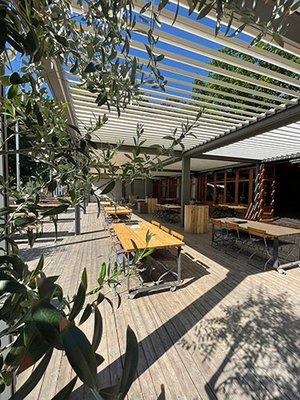 Excellent climate via an intelligent louvre solution
Stefan Brüggemann, Product Manager at sun and weather protection expert weinor, provided the idea for the fitting product: "The weather in North Europe is very changeable – the louvred roof Artares therefore provides the perfect response to this. Due to its robust construction and flexible options, rain protection and sun protection can be combined fantastically here."
"It was also important for us that it isn't too warm for our visitors under the sun protection", as Lars Meyer adds. The intelligent louvre technology enables the Artares patio roof to precisely provide the right solution. If it gets too hot, the louvres can be opened with a narrow gap, the hot air escapes upwards and the temperature beneath the roof remains pleasant - natural air-conditioning.
Should it on the other hand become too cool for the visitors, integrated radiant heaters which are integrated perfectly into the overall look with their rectangular optics heat the space beneath the louvred roof. The application of infrared technology provides pleasant, instant warmth. Protect against glaring effects arising due to low sun Vertical-sun protection, which can be operated like louvres and patio heating via remote controllers. Moreover, they maintain the heat longer on the patio. "With the radiant heaters and also with the vertical sun protection, we extend the summer and are no longer as weather-dependent as we used to be", Lars Meyer reports. You can also enjoy using the outdoor bar beneath the stylish louvred roof in autumn and winter.
Atmospheric lighting for a demanding public.
Above-all, Lars Meyer really loves the coloured LED lighting beneath the louvred roof. "We had considered working with indirect lighting in advance", as the operator reports," then the louvred roof was ready and when the lighting was switched on, we discarded the old plan – the lighting was so attractive!"
Coloured LED strips on the fascia and the roofing post immerse the ambiance in a huge range of dimmable colours in atmospheric lighting. LED strips with warm white lighting always ensure fitting illumination of the scenery at the bottom of the louvres. Everything can be operated with the remote control using a hand transmitter. "It's easy to operate", as Lars Meyer reports, "and the interplay between light and shade is really fun!" However, visitors' responses to the louvred roof make him even happier. "Our visitors are enthralled!"