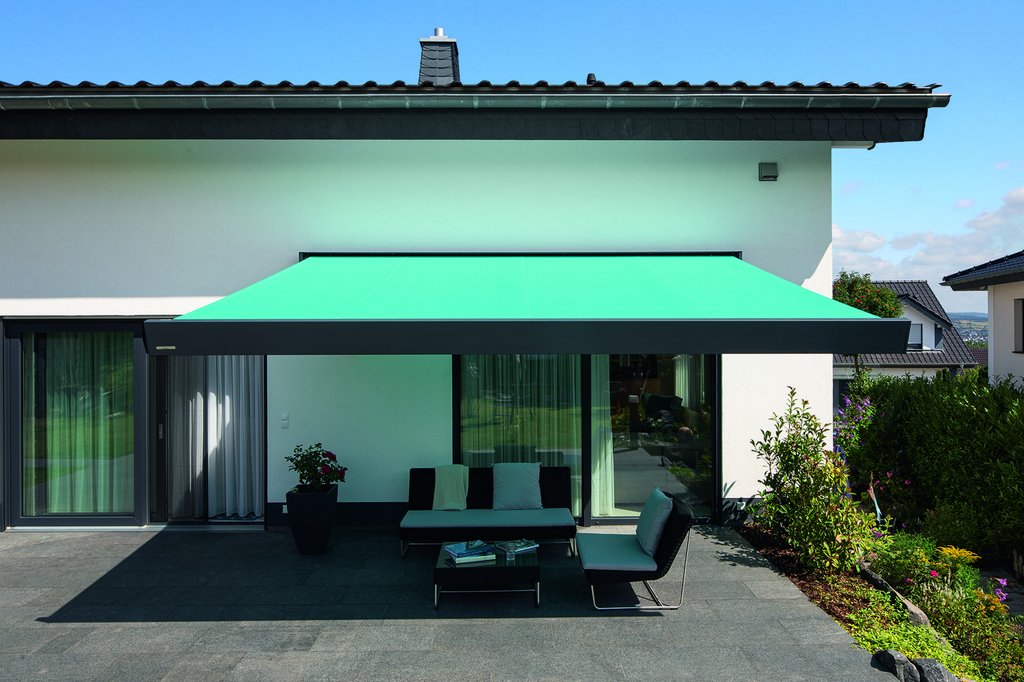 Andernach: Pure sun protection!
The owner couple of a linear detached house in Andernach, the Wandstrats, was looking for a sun protection awning which forms artistic entity with their house and garden area. With the Kubata from the awnings manufacturer weinor, they found the perfect solution: The cassette awning is not only technically sophisticated, but also adapts ideally to the clear building form with its simple design.
After the Wandstrats had moved into their new home, it soon became apparent that use of the south facing patio was hardly possible on sunny days. Even worse: the indoor rooms also became very hot. A motorized awning was needed! Only, it should be adapted to the house's clear lines and by no means compromise the aesthetics of the building. "A sunshade would only have covered a small area", as the owner explains, "and a traditional awning didn't come into question for us for style reasons – we wanted a sun awning which not only fits on but also matches our facade."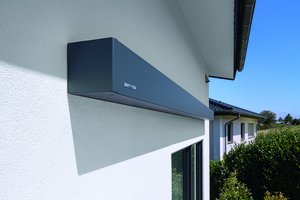 Quality meets design
With the cassette awning Kubata, an awning was found which, due to its cubic design, met the house owners' high design requirements. Hannah Wandstrat reports: "The clear form and elegant alignment impressed us immediately." And her husband adds: "Naturally, the high quality and exceptionally long warranty period of 7 years were a further decisive argument".
"I particularly liked the huge selection of frame and fabric colours", as the owner reports. "I was able to adjust the awning housing precisely to the anthracite shade of our window and door frames." The awning fabric also convinced her: "The refreshing turquoise lends our steel tube and wickerwork seating area a modern touch – in particular in hot summers, the cool colour shade ensures well-being."
Independent design experts also acknowledge that the weinor Kubata looks fantastic: the patio sun shade with a linear design was awarded the coveted iF Design Award 2019 and accoladed as the German Design Award Winner 2019.
Happy builder-owners
Since the motorized awning Kubata was fitted, the patio has become the family's second living room. "We enjoy the pleasant shade", as the owner reports. "And naturally the control with a remote controller and wind automation for the electric awning with a motor contribute nicely to its comfort." A further benefit: if the Wandstrats also wish to enjoy their patio in the evening, integrated LED lighting provides pleasant light.