A great roof over your head
A family from Upper Swabia won the Terrazza patio roof and the Sottezza II conservatory awning from weinor in a prize draw.
We think that others always have all the luck. And yet when it comes knocking at our own door, we are usually stunned. That's roughly what happened to the Fels family of five in a small town between Ulm and Lake Constance. They entered a reader's competition in the "Mein Eigenheim" magazine, where a weinor Terrazza patio roof and undermounted Sottezza II conservatory awning including LED lighting could be won as the main prize.
They were of course over the moon. As the family had long wanted beautiful, high-quality sun and weather protection on the patio. Beforehand, the family used a sunshade but it wasn't a permanent solution. It did not provide enough shade and had to be closed straight away when it was windy. Their win came at just the right time.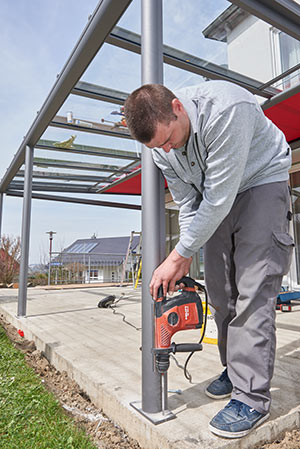 Now they can enjoy being outside totally relaxed, whatever the weather. The Terrazza patio roof reliably protects against inclement weather, the solid aluminium construction guarantees that. Garden furniture sensitive to the weather no longer have to be stored away safely. And the decorate Sottezza II awning's fabric, which runs under the patio roof, is reliably protected from dirt and adds a homely touch to the outdoors. It also reduces the heat under the patio roof.
The right mood is created when the LED lighting is switched on in the evening. It is integrated into the Sottezza II conservatory awning's cassette and shines a wonderfully warm white light that can be dimmed using the remote control. In addition to the patio roof and awning, the Fels family also had a VertiTex awning from weinor fitted. It was installed on the side as the patio situated on a slope is exposed to the evening sun to the west. Although it looks stunning, it is often dazzling too. This is now a thing of the past thanks to VertiTex. It is very easy to operate using the BiConnect radio control with hand transmitter, as is the awning and LED lighting.
The winning family was impressed by the quality of the installation. The weinor retailer and partner Schlegel GmbH installed the patio roof and awning in just two days, all to the complete satisfaction of the Fels family.
weinor partner involved in this project: Schlegel GmbH / Dürmentingen