A builder-owner family equipped its patio with a weinor Glasoase® so they can stay in this wonderful setting for even longer. On fresh days they now go straight from the pool into the conservatory protected from the wind.
A large house, refreshing pool, stunning setting: what more could you want? Well, there was one thing, thought the Czech family that owned the house. As what use is a fantastic outdoor area when you can't stay out there in the wind and rain. They therefore enquired about the options for a patio roof.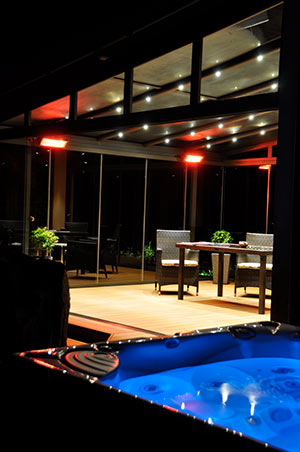 Patio roof, awning, glass elements
Once they had come across the Glasoase® concept, it didn't take them long to make a decision. As the advantages are obvious: a patio roof and glass side elements turn the patio into a protected but still transparent space that is still close to the beautiful surrounding area. If you want to feel the fresh air wafting around your face, the sliding glass elements are simply pushed apart. And you're sitting outdoors again. A conservatory awning from weinor was fitted over the patio roof so that the conservatory does not heat up too much in the summer and the climate remains pleasant.
Conservatory with side awnings
To be able to enjoy the evenings to the full, warm white, energy-saving LED spotlights immerse the inside of the Glasoase® in a pleasant light. Several Tempura heating systems from weinor were also fitted so that you also feel comfortable on the protected patio on cool days and evenings. weinor also had a solution up its sleeve in terms of privacy protection. The VertiText vertical awning was fitted to the sides and front of the Glasoase®. When retracted it not only keeps out curious eyes but also protects against glare due to the rays of sun shining in at an angle. It also has the same fabric pattern as the conservatory awning so that the whole look is coordinated.
LED spotlights and heating in the conservatory
The BiConnect radio control from weinor brings great convenience to the 4.6 x 4.9 metre Glasoase®. As all the electrically operated elements, the conservatory awning, side awnings, LED lighting and heating system, can be conveniently controlled using the hand transmitter and the LED spotlights and heating can even be dimmed to suit personal requirements. Resulting in a wonderful patio space that protects at the same time and allows for plenty of views outdoors too. Added to this, there's the attractive Glasoase® design that is perfectly coordinated to the building's elegant facade.
Which is why the client was so thrilled with the successful project: "After it was completed, the patio was the most frequently visited spot in the house. The result far exceeded our expectations in terms of beauty and perfection. It's a true gem that will give the whole family great joy for many years to come and is therefore one of the best investments."