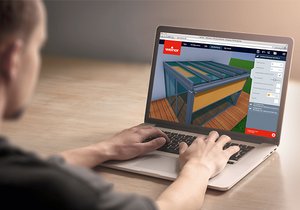 NEW: Download weinor 3D Designer 2.0 now!
You can playfully design your perfect outdoor living space with matching awning, pergola awning, Glasoase® or a patio roof from weinor using the weinor 3D Designer 2.0. Virtually all new products have been integrated.
Whether it is on your computer or tablet – the weinor 3D Designer 2.0 is an excellent tool to help you see all the awning or patio roof options available for your own personal space. Another great feature is that the house facade and patio / terrace look can naturally be adapted to match your home. It is even possible to upload a photo of your own house or building facade and embed it as a background. This allows you to quickly review what impact your sun or weather protection system will have on your home.
Several new features help you to experience weinor products: For example, you can create different light atmospheres by activating the colour LED strips. With the shadow casting simulation, you can experiment as to where effective sun protection is best placed on the patio. Moreover, the intensity of the sun can be changed. Even a view from the inside to the outside is also possible.
As an app, you can take the weinor awning and patio configurator everywhere and can show your friends, for example, how your dream weinor product is going to look –without even having to go online.
Install the 3D Designer 2.0 on your computer or install the app on your tablet and discover how you can create an idyllic homely atmosphere in your beloved outdoor space with an awning or patio roof from weinor.

NEW in November 2023: Configure the cubic patio roof Terrazza Pure as a coupled construction for large patios now!