Clear the stage for PergoTex
The Lower Saxony horticultural show in Papenburg equipped its open air stage with the PergoTex pergola awning from weinor.
Under the motto "MS Blooming Papenburg", the 2014 horticultural show over 16 hectares of grounds impressed with lush blooms and maritime accents in 16 themed gardens, 12 flower show halls and a gardeners' market. The ship's galley is the central area of the city park with intercultural garden, "ForscherWerkStadt" for young visitors and a stage where numerous events took place throughout the show. The horticultural show planners provided a roof to protect the stage with catering unit and seating from the unsettled north German weather conditions. It should be stable and weather-proof but also retractable if required. The specialist company Terassenwelten Frank Merz based in Papenburg had the right solution up its sleeve for this.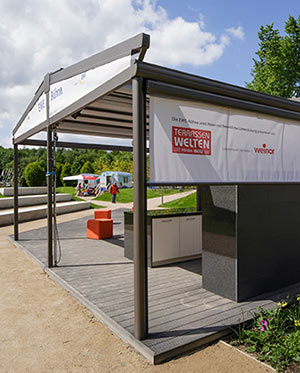 Wind and rain-proof system
A coupled, 7 x 7 metre large construction with two folding roof units is used on the horticultural show's event stage. They are motorised by a drive and can be controlled using a hand transmitter. The two PergoTex systems cover the kitchen and catering area. The textile patio roof is ideal for use in Papenburg as variable and solid weather protection. As there can often been high wind strengths in this region, the untrussed roof has to be able to withstand quite a bit. PergoTex is extremely robust with its tear-resistant, three-layer PVC fabric and stable supports as well as aluminium transoms. The system withstands winds of up to wind force 8 on the Beaufort scale – even with extended folding roof. The robust nature is supported by a counterbalance system with lateral guidance. PergoTex also offers reliable sun protection alongside protection against the wind. With a minimum angle of eight degrees, it also provides rain protection. The water can be drained off in a controlled manner through the guttering and water drain integrated in the posts.
Vertical awning as side protection
Two Aruba vertical awnings from weinor were used to close the stage visibly at the back and protect it from draughts. The rail-guided system also runs safely and quietly with strong gusts of winds. The drop profile support brackets are designed to be sound absorbing and ensure quiet-running operation. When retracted, Aruba looks like a uniform, compact system because the drop profile disappears almost completely into the cassette. The fabric can be printed on too and used as advertising space.
weinor partner involved in this project: Terrassenwelten Frank Merz / Papenburg