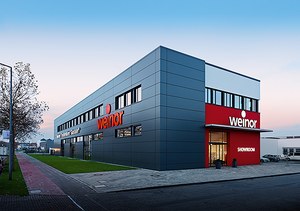 It all began with a small, fine and inventive craft business. In 1960 Dieter Weiermann founded a business for installing windowsills and curtain rails in Cologne. The awnings came later. At the same time he noticed that there were a number of possibilities to improve sun protection products. So he started making them himself but just better.
It all began with a small, inventive craft business but today weinor is a market leader in Northern Europe for sun and weather protection on patios.
What is important to us:
Social commitment
weinor is committed to the Sonnen-Sprosse e.V. charitable association that it founded to provide appropriate educational opportunities and a healthy upbringing for children and young people
weinor works together with the Gemeinnützige Werkstätten Köln (GWK), a recognised supporter of workshops, housing and care in the community for people with disabilities
Creating and maintaining jobs
weinor offers a flexible and family-friendly working hours model
weinor provides training. We have a high percentage of apprentices and take them on for at least 1 year after their apprenticeship
weinor creates jobs by integrating industrial processes into the company, e.g. setting up a powder coating plant
In 2013 weinor received an award as a family-friendly company as part of the "Family-friendly commercial areas in Cologne" from the city of Cologne
The number of employees has increased by almost 50% since 2003
Sustainable business
As a company, we want to operate successfully and at the same time act in a socially responsible manner. We want to secure our future and the future for the next generations as best as possible.
We give priority to our employees, our company's stable growth, the immediate surroundings at our locations. We are also mindful of the environmental aspect and our planet's climate. We are certainly not doing enough to achieve this yet but we are taking one step at a time in what we believe is the right direction.
The spinneret dyeing used for the weinor fabric collections also saves approx. 90 percent water compared to conventional yarn or piece dyeing.
weinor's printing is climate neutral. We offset the carbon emissions from print jobs by supporting a climate action project.
weinor uses paper for its printed products (brochures, stationery, etc.) whose pulp comes from sustainable forestry. The paper is either FSC or PEFC certified.
The weinor head office in Cologne's Ossendorf district is 20% more sustainable than required by the German energy saving regulation.
The weinor powder coating works without using any chromium or producing wastewater.
weinor raises awareness for the energy saving potential of professional sun protection at a political level.
Forward-looking:
weinor has grown constantly since it was founded
We tap into international markets
weinor invests continuously in the development of new products
We invest in modernising our sites: The new showroom and office building in Cologne's Ossendorf district were opened in 2014