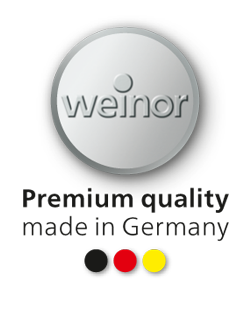 Best quality – made in Germany
As the market leader for sun, rain and weather protection on the patio we use high-quality materials for first-class products. Only available exclusively through specialist partners who take on every part of the order from initial consultation to installation, which is professionally carried out by highly trained experts according to current building regulations where applicable.
These are weinor's quality features:
Tried and tested made in Germany quality: weinor ensures strict quality checks through certified work procedures and production processes at its two German sites
Exclusive fabric quality: the innovative weinor solution dyeing technology guarantees long-lasting colour brilliance
In house powder coating: it guarantees top quality and a large variety for weinor frame colours
Customised sun and rain protection solutions: tailored to your personal needs
Anyone opting for weinor products can rely on top quality.
So ask your weinor retailer for your weinor certificate of authenticity!
An original product with certainty: only genuine with the weinor certificate of authenticity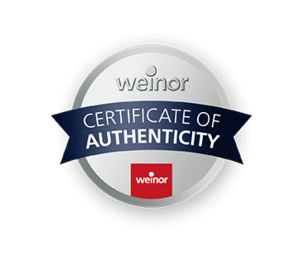 As a customer you receive the weinor certificate of authenticity for your purchased product from August 2017 to certify the originality of weinor products. So you can be sure that you're receiving a 100% weinor product and ensuring your product's resale value.
Each weinor product totally bespoke, meaning it is developed and designed in house, and produced exclusively for you in Germany. German production and the use of high-quality materials make your weinor product unique.
So ask your weinor retailer for your weinor certificate of authenticity!