Leiblfing in Lower Bavaria: "A seamless look!"
It took builder-owner Marco Thomas a long time to find a patio awning to integrate seamlessly into the linear design of his modern detached house in Leiblfing in Lower Bavaria. As the patio belonging to the house is in a south-east direction, cooling shade via reliable sun protection was absolutely necessary. With the cubic cassette awning Kubata from awning manufacturer weinor, the owner finally found exactly what he had been looking for.
"Initially, we had thought that the balcony above would provide adequate sun protection", as builder-owner Marcus Thomas reports, "but it was clear very soon when having breakfast on the patio that the sun dazzled unpleasantly and in the summer it was just too hot."
So, the young family looked for suitable outdoor awning. Mr and Mrs Thomas made a fast find at the specialist company Roglmeier, experts for patio roofs and sun awnings, in neighbouring Moosthenning. They chose the linear cassette awning Kubata – the perfect match for the design-conscious owners.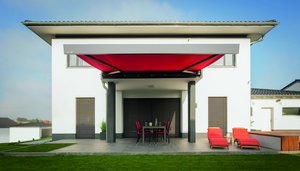 Clear forms, simple design
"It was most important to us that the awning blended well with our facade visually", as Marco Thomas reports. "That is true for this cubic cassette awning. The clear, simple design provides a seamless look with our house."
The uniqueness of the linear look has also convinced independent expert juries: Thus, the Kubata was accoladed with the coveted iF Design Award and German Design Award prizes in 2019.
A wide range of awning fabrics and frame colours
The wide range of frame colours and awning fabrics convinced the owner: "Our house facade is kept completely in white and grey shades. The automatic awning now harmonises perfectly with both grey columns, the lower area of the balcony and our patio furniture due to the anthracite frame colour." His wife adds: "Without any colours at all, we felt that the facade made a somewhat cold impression, which is why we decided in favour of the wine red awning fabric, thus setting a deliberate accent of colour."
More fun outdoors with the patio sun shade
Mr and Mrs Thomas now enjoy copious Sunday breakfasts on their patio – with no glaring sunlight whatsoever and perfectly tempered. And, the extended awning retains the rising warmth on the patio a little longer in the evening. "A cosy tête-à-tête evening on the patio with the family or friends is now even more enjoyable with the installed LED lighting", as builder-owner Thomas reports and adds: "It's really practical that the lights and patio awning can be easily operated using the awning controller."
Responsible weinor partner: Roglmeier / Moosthenning