Downloads
Now see the Product live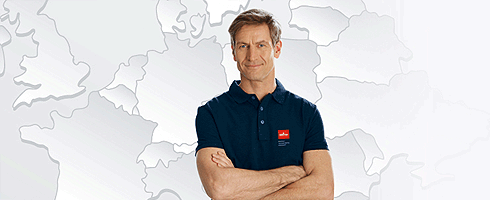 Find a weinor retailer showroom near you now.
High quality awnings for every preference.
Here you find the complete Weinor awning portfolio
Start search
Cool solutions for hot problems
Pergola awnings make cool solutions for hot problems like sun exposure and excess heat when enjoying the outdoors. With two different pergola designs available, there is a solution for every house and patio. Many different patterns and colours of fabric with 56 colours of hardware and arms make it a simple task to pair the right combination with an existing deck or garden.
There are retractable pergola canopy solutions which offer the opportunity to add Tempura patio heating, LED light, and other accessories. With strong fabrics and carefully calculated profiles, pergolas can be configured for exact situations: from extreme wind and rain showers to uneven surfaces, and scenarios where retracting shade may be required on a regular basis. Pergola designs can be as flexible as you are!

Semi-permanent designs
With optional radio control, and the patented weinor design carriage, pergola awnings and canopy products can provide a near-permanent screen for outdoor areas. Built with the flexibility of quiet and easy operation, the pergola design is strong enough to be left extended when most other awnings fail. Two strong transport profiles combined with a strong gutter and leg system are providing new market standards. Only top quality materials, which have been extensively tested, are used by weinor.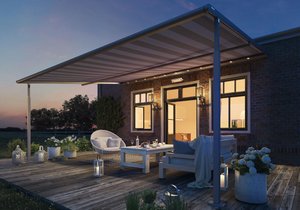 Adjustable shade for the outdoors
Installation of an adjustable type of pergola awning means doing the main installation once and reaping the benefits thereafter with ease. Garden spaces which need some access to light during specific parts of the day can now be accommodated with the weinor PergoTex II. At the push of a button, the canopy can be extended or retracted completely or in increments. The use is further extended with addition of lateral all-glass elements or the built in LED spot lights.
Fabrics are PVC coated and the 8° pitch offers strong protection against rain and wind. The cabrio folding system is reminiscent of a sports car with convertible roof. Customers will feel modern and sporty with the weinor PergoTex II.

Benefits of weinor products at a glance
As with every weinor product, pergola awnings are designed for looks, quality, and ease of use in accordance with the weinor philosophy of superior service and products in everything they create.
weinor PergoTex II push-button canopy extension
PVC coated fabrics protect you from the elements
Patented crossbeam technology gives you enhanced stability
Many different colours and patterns to choose from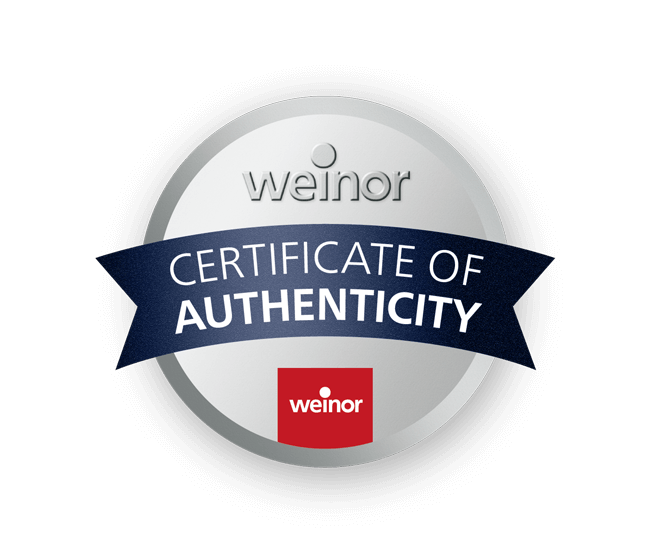 weinor certificate of authenticity -
an original product with certainty
Every weinor product has been delivered with a certificate of authenticity since January 2018.
Ask your retailer for it!