Add fresh colours to your patio – with a new awning fabric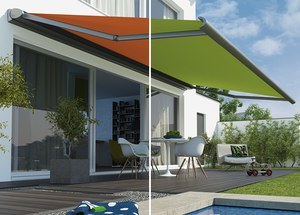 You feel like one of our new homely patterns for your patio? If so, we have good news for you: A fabric can be replaced independently of the overall awning structure. If the frame is still working well, you don't necessarily need to replace the entire awning.
The weinor fabric collection – finest quality and wide variety
If you're looking for a new awning fabric, weinor is the place to be. A suitable pattern and also the properties of the fabric are vital factors in getting this right. With weinor fabrics, you can create a feel-good atmosphere in your outdoor area, ensuring long-term elegancy because its colours are lastingly light-resistant. High-quality pigments are stored in each individual fibre. The result: especially good colour fastness and high UV resistance. This is what makes weinor fabrics stand out from products made by other manufacturers where only the finished yarn is dyed.
Further benefits of the weinor fabrics: they repel dirt, water and oil, provide the best-possible protection against ultraviolet radiation and can lower the temperature of the living area. With 171 fabric patterns to choose from, you're certain to discover one which matches your very own personal taste!
Find your own personal weinor awning fabric favourite here