Discover top quality cassette blinds at weinor
The large range of cassette awnings that weinor has will change your patio to a cosy and fashionable venue. Whilst steady awnings are expelled to the weather, cassette blinds can be rolled up safely by the push of a button. This way, they are distinguished with a much higher longevity, providing a nice return of your investment. You are sure to find the exact colour to match your interior decorations with weinor's large range of fabrics and accessories for your facade. They are all dirt-repellent and have long-lasting brilliant colours, thanks to the weinor unique dying process. The materials are mounted on frames and brackets that can also be colour-coordinated, to match your exterior.
What are the advantages of cassette awning? Generally, it is a great way to enjoy days outside, no matter the weather condition. Supplying shade, even hot summer's days can be spent outside. Also, sudden rain showers are weathered out nicely underneath the awning. The weinor cassette blinds solution is an aesthetically pleasing, custom-made shade with traditional and trendy fabric ranges. They are all guaranteed to fit perfectly on any size of patio or balcony and can be mounted on all different kinds of surface. Further, the awning can be equipped with LED lighting, which extends cozy get-togethers with friends and family even after the sun set. We have a universal mounting technique, which will be applied by our specialized dealers for you. Our special technology gives the cassette blinds a beautiful and natural feel even after years of use, attesting to their high quality.
So what are you waiting for? Get in touch with our specialized weinor dealers to find the perfect cassette blind solution. weinor, a company established in 1960, and still growing, is active in 32 different countries, yet sales only take place through qualified dealers.
Cassette blinds available in a large range of colours and fabrics
Silky feeling, high quality fabric
Universal mounting technique to guarantee an exact fit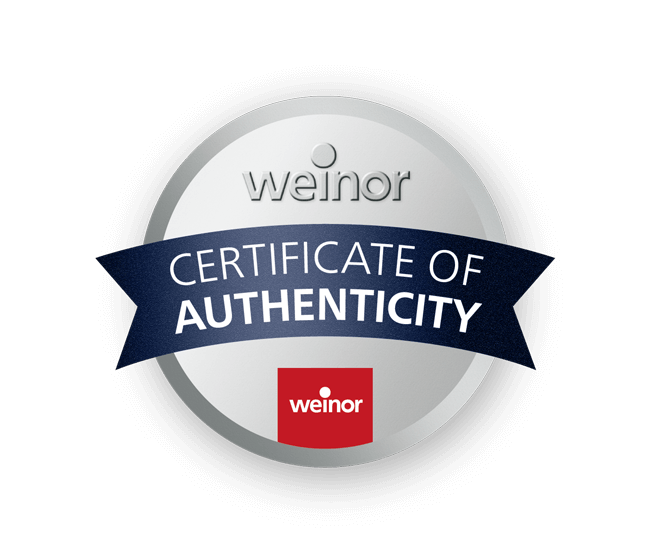 weinor certificate of authenticity -
an original product with certainty
Every weinor product has been delivered with a certificate of authenticity since January 2018.
Ask your retailer for it!