Discover weinor commercial awnings, blinds and canopies
You may be familiar with weinor awnings solutions in homes, but did you know that weinor also produces custom commercial blinds and shop awnings or canopies? Equipping your shop, bar or restaurant with an awning offers a great opportunity to extend business. Whatever the weather, it is possible to offer extra outdoor space, either for people to sit or to window-shop. It doesn't just rain when you're at home; the hot August sun doesn't just beat down when you're on holiday. This also happens when you're out, and your customers will surely appreciate an awning which protects them from any weather condition. Like this, commercial space can be easily extended, either for restaurants to offer more seats or for pubs to create smoking areas. Shops and boutiques draw customers while protecting displayed items from fading.
weinor offers commercial blinds or commercial canopy solutions for any business, whatever size your entrance or your shop window. And with our large, versatile range of material and fabric colours, you can rest assured to find a design to match your corporate colour range, or on the contrary, one that has a great contrast with your facade, thus attracting more customers. As there are waterproof solutions available, they effectively protect you and your guests from sudden rain showers. All of our fabrics are of a high quality and specially treated to be dirt and water repellent. They will last a long time, thus optimising your investment.
Commercial blinds and shop awnings in a wide range of colours
Dirt and water repellent, top quality
A rapid return on investment for shop owners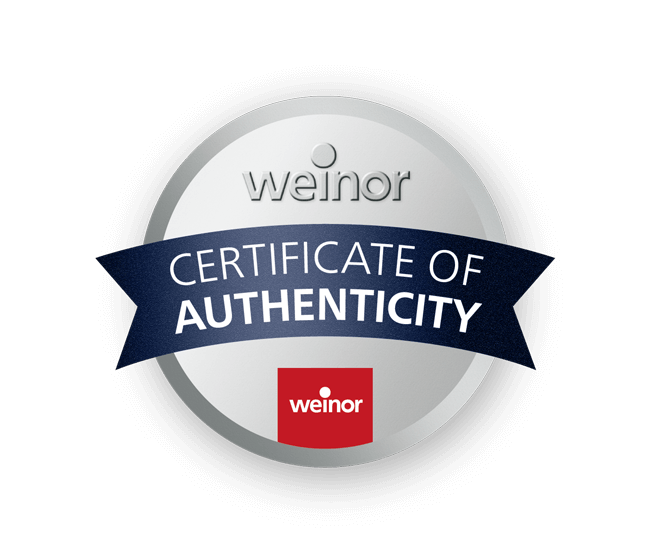 weinor certificate of authenticity -
an original product with certainty
Every weinor product has been delivered with a certificate of authenticity since January 2018.
Ask your retailer for it!