LED lighting – and the mood brightens
LED lighting from weinor adds that special touch to any patio: their warm glow creates an attractive atmosphere while allowing the patio to be used for much longer. Based on modern technology, the innovative LEDs can save a great deal of energy.
Environmentally friendly, long lasting and cost saving – high-quality LED spotlights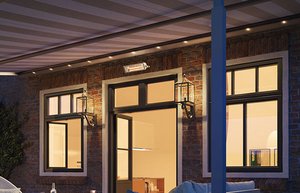 Anyone opting for LED lighting from weinor is doing everything right. As the little mood setters save energy and look really elegant. The light bars are available with pleasant warm white lighting and can be dimmed using weinor remote-control technology.
Economical LED technology
As much light as a 20-watt halogen spotlight but uses 85% less energy
weinor's 2.6-watt LED lamps produce 187 lumen of light.
Extremely long life lasting thousands of hours
LED lighting: a summary of your benefits
Timeless, elegant design
Pleasant warm white light (approx. 3,000 K)
Individual LED lights can easily be replaced
Can be installed anywhere
More than 200 frame colours available
Dimmable using BiConnect radio control
Extremely efficient lighting with low energy consumption
LED RGB Strip: the cosy al fresco lighting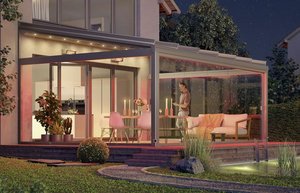 The new LED bar from weinor provides coloured lighting and great light effects for a unique mood on your patio. Whether they're fitted to the house wall, weinor products or other patio constructions, the LED RGB Strip can be installed really quickly, easily and even retrofitted anywhere protected from the weather.
Your light is distributed evenly resulting in an incomparable atmosphere. The lighting can be conveniently controlled and dimmed using the weinor BiConnect radio control hand transmitter. If Somfy RTS radio technology is used then the LED can be switched on/off via a suitable RTS handset. With this option, and hard wired control, a button on the light bar is used to change the colour and dim the LED.
LED RGB Strip: A summary of your benefits
Only from weinor: easy operation of the LED coloured light bar and all other weinor products using the BiEasy 15M Go! hand transmitter
48 colours and 3 whites
Can be installed anywhere, and is protected from the weather, can also be retrofitted
More than 200 frame colours available
Extremely efficient lighting with low energy consumption
Beautifully-shaped housing, can be fitted flexibly and subtly
Note: the weinor I/K, Semina, Cassita II and Topas awnings can be equipped with a separate LED bar. With all other awnings, the LED spotlights are integrated into the awning cassette
Downloads