Which awning are you looking for?
All awnings with supports
/ filtered
Product Products
All the products shown are:
Pergola awnings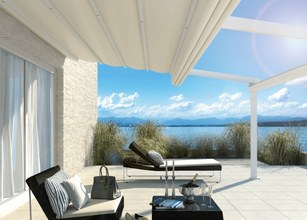 weinor PergoTex II
Discover the convertible feel. The elegant PergoTex protects against sun, wind and rain.
Louvre roof for patios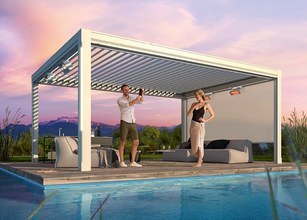 Artares
Thanks to its natural ventilation using sophisticated louvre technology, the Artares louvred roof ensures a healthy bioclimate on your patio.
Now see the Product live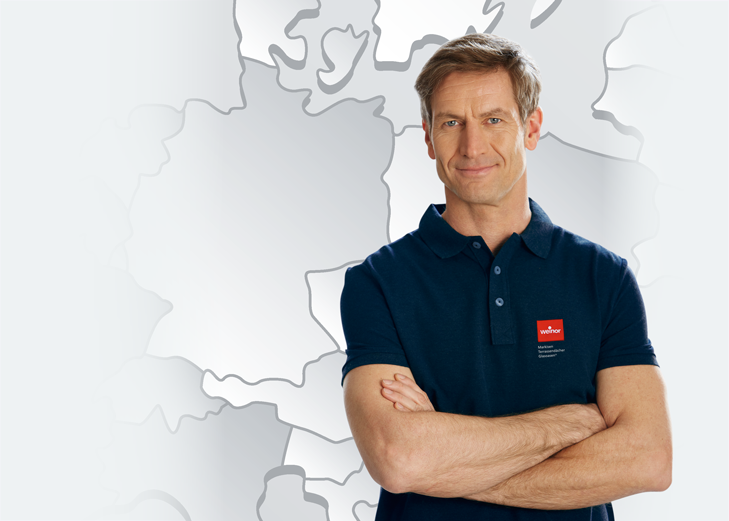 Find a weinor retailer showroom near you now.
High quality awnings for every preference.
Here you find the complete Weinor awning portfolio
Start search
Awnings with supports
Time in the fresh air is good for the body and soul. Naturally, you can best enjoy this time in everyday life on your self-designed patio, the balcony or in the garden. An awning with supports provides you with protection against the sun, wind and light or (model-dependent), heavy rain in your beloved outdoor area whenever you need it. Thus, you can spend even more time in your favourite open-air space whether alone or with family or friends. The awning with supports, also referred to as a pergola awning, is available from weinor. See for yourself!
Awnings with supports for the exterior area
Awnings with supports are especially appropriate for spacious patios and balconies. The reason for this is the stabilising effect of the supports. Thus, you can also tension large surfaces without the awning sagging or also protect against the sun reliably in more windy regions. The textile pergola awning Plaza Viva convinces, for example, with a highly flexible and sturdy post construction which ensures that the awning can also be safely installed on insulated or uneven facades. The awnings with supports are also used in smaller exterior areas.
A wide range of awnings for selection at weinor
At weinor, you can find a wide range of awnings for various exterior areas such as patios, gardens, or roof terraces. For example, folding arm awnings with a semi-cassette a full cassette or without a cassette. Moreover, awnings with supports should not be missing in our range:
models with awning supports and extendable folding awnings such as the weinor Pergotex II
textile pergola awnings with telescopic supports which can even offer all-round protection thanks to additional vertical awnings
by the way: Our Artares louvred roof is a different type of pergola awning
Find awnings with supports from weinor comfortably!
Thanks to awnings with supports from weinor, your outdoor area will be transformed to a completely perfected open-air paradise. As the north European market leader for outdoor weather and sun protection, we offer you exclusively top quality with our products. If you are looking for a weatherproof pergola awning, you will come up trumps with us. Moreover, the weinor retailers accompany you with your patio project from its inception to installation. And afterwards they are more than happy to be contacted as your contact for maintenance work.
It is easy to purchase an awning with supports from weinor:
Your retailer will be happy to advise you in detail regarding all models and options.
Your new awning with supports is directly installed at your home by the retailer.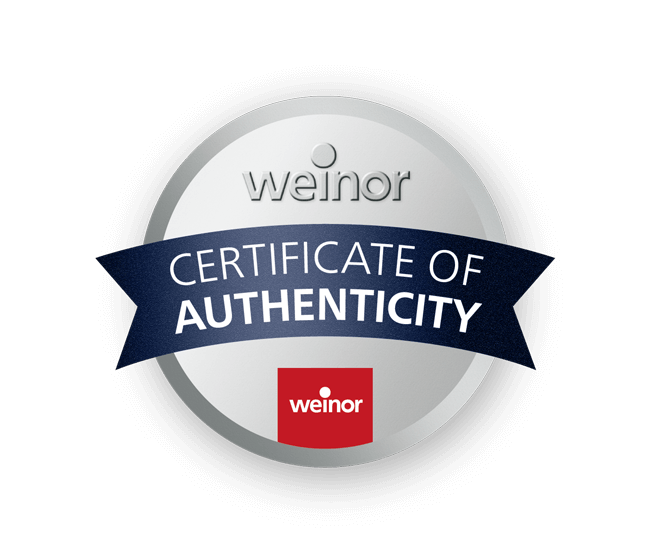 weinor certificate of authenticity -
an original product with certainty
Every weinor product has been delivered with a certificate of authenticity since January 2018.
Ask your retailer for it!
Please note:
We reserve the right to make technical changes as well as changes in range and product portfolio.
The weinor product range can vary from one country to the next.
All the illustrated equipment is weatherproof outdoor furniture and accessories.