All waterproof patio roofs
/ filtered
Product Products
Glass patio roofs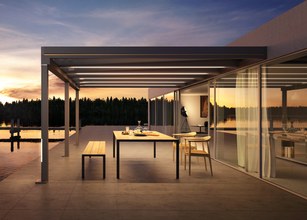 Terrazza Pure
The Terrazza Pure cubic glass patio roof from weinor impresses due to its modern square and innovative design.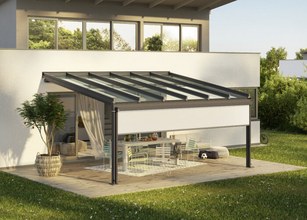 Terrazza Sempra
The timeless glass patio roof Terrazza Sempra captivates with its straight-lined design combined with typical roof pitch.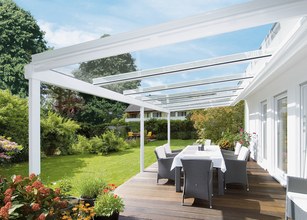 Terrazza Originale
The Terrazza Originale glass patio roof impresses with its classic rounded look combined with a typical roof pitch.
Louvre roof for patios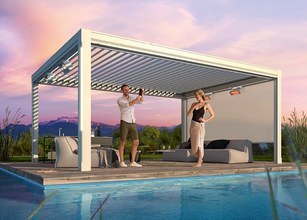 Artares
Thanks to its natural ventilation using sophisticated louvre technology, the Artares louvred roof ensures a healthy bioclimate on your patio.
Pergola awnings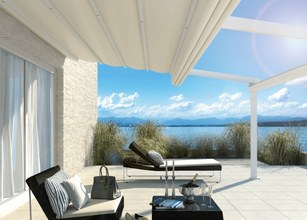 weinor PergoTex II
Discover the convertible feel. The elegant PergoTex protects against sun, wind and rain.
Now see the Product live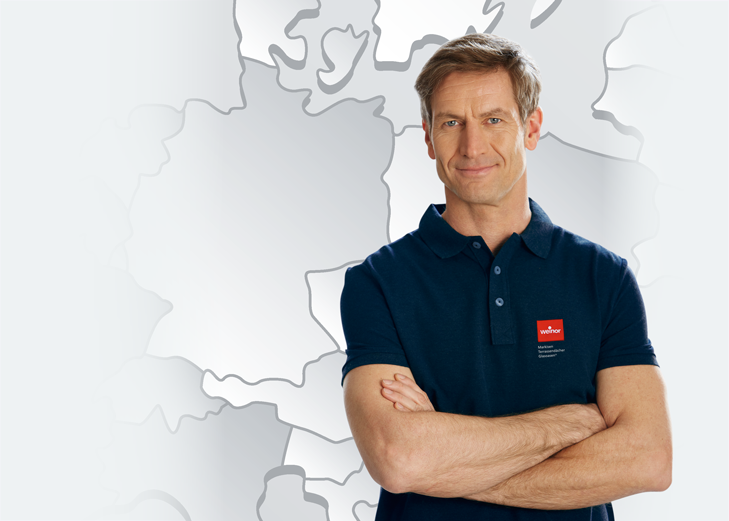 Find a weinor retailer showroom near you now.
High quality awnings for every preference.
Here you find the complete Weinor awning portfolio
Start search
Waterproof patio roofs
With waterproof patio roofs from weinor you are sitting pretty and remain quite dry and comfortable on your patio even in rainy weather. Our clever solutions such as the prize-winning rainproof louvred roof or our timeless glass patio roofs offer you a dry place under the roof to while away the time during every season. Glass sliding walls fitted at the sides provide additional protection against splashing water or rain penetrating from the sides.
Waterproof patio roofs: Find the model which meets your needs
Designed to suit virtually all building situations – weinor offers you unique possibilities for transforming your patio into a real oasis. From our sun protection and rain awning weinor PergoTex II and the popular louvred roof Artares right through to our glass roofs everyone can come to us to find the roof which best suits their home and garden. And: our retailers support you during the whole process of choosing, installing and approval!
Glass, blades, textile – your outdoor living dreams are made out of these materials
A night spent under the open sky despite rainy weather? weinor makes it possible! With a waterproof glass patio roof, you lie under the stars while the raindrops rhythmically patter on the roof. With our waterproof textile or louvred roof you are safely protected from drizzle and enjoy the view of nature from your pergola or patio. We show you what advantages the different waterproof materials have to offer:
glass roofs: Unspoilt view in all directions, windproof and rainproof, even during gusts or heavy rainfall, timeless and elegant – this is what characterises our glass roofs Terrazza Pure, Terrazza Sempra and Terrazza Originale
louvred patio roof: The waterproof Artares louvred roof automatically adapts to the weather and the position of the sun in the sky and can be flexibly opened or closed
textile roofs: The weinor PergoTex II can be extended and retracted and consequently offers complete flexibility. With the waterproof Pergona fabric made of PVC you are protected against rain
All our waterproof patio roofs can also be fitted with integrated LED lighting, and if required, additional glass side elements offer further protection against wind and rain. This means that all our waterproof patio roofs can be transformed into an outdoor oasis during light and moderate rain, but please note that during storms and thunder you should retreat to your indoor rooms and appropriately secure your patio against severe weather.
It is so easy to buy your waterproof patio roof from weinor:
Scroll through the website to find the right models.
Your retailer provides you with comprehensive advice and finds the best solution to protect your patio against rainwater.
The retailer installs the waterproof patio roof at your home, and you don't have to bother about anything else.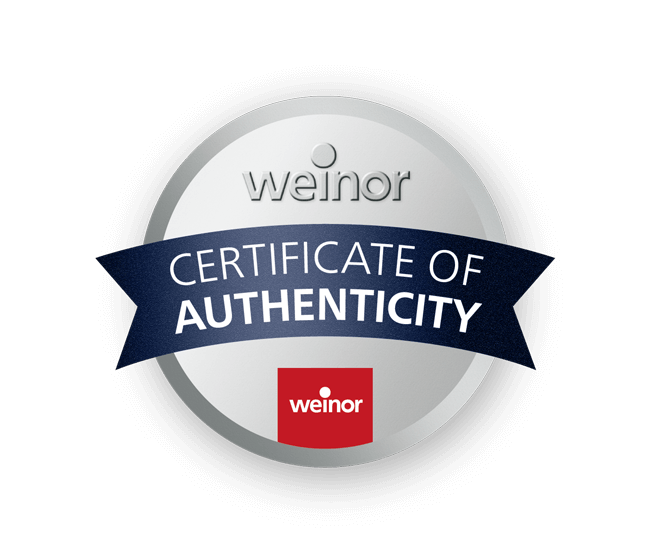 weinor certificate of authenticity -
an original product with certainty
Every weinor product has been delivered with a certificate of authenticity since January 2018.
Ask your retailer for it!
Please note:
We reserve the right to make technical changes as well as changes in range and product portfolio.
The weinor product range can vary from one country to the next.
All the illustrated equipment is weatherproof outdoor furniture and accessories.