Awnings with roof mounting
Which awning are you looking for?
All awnings with roof mounting
/ filtered
Product Products
All the products shown are:
Patio and balcony awnings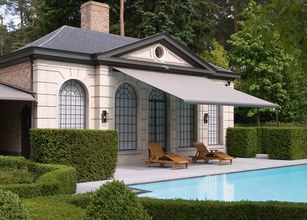 Opal Design II
Cassette awning that stands out for its timeless, classic design hand in hand with groundbreaking weinor technology.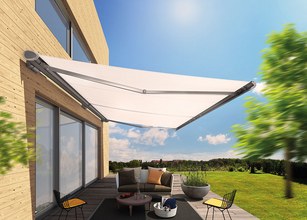 Semina Life
It's the all-rounder among cassette-awnings and impresses due to its modern, fresh design.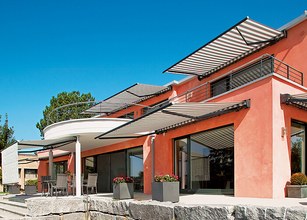 Topas
High on quality, low on budget – the weinor Topas open awning is the perfect model to get you started.
Window and vertical awnings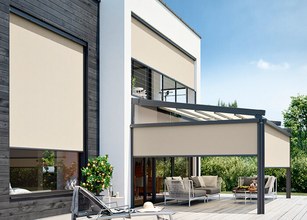 VertiTex II
The perfect privacy and anti-glare protection. If you also want to enjoy the view outside, then our see-through fabrics are the ideal choice.
Now see the Product live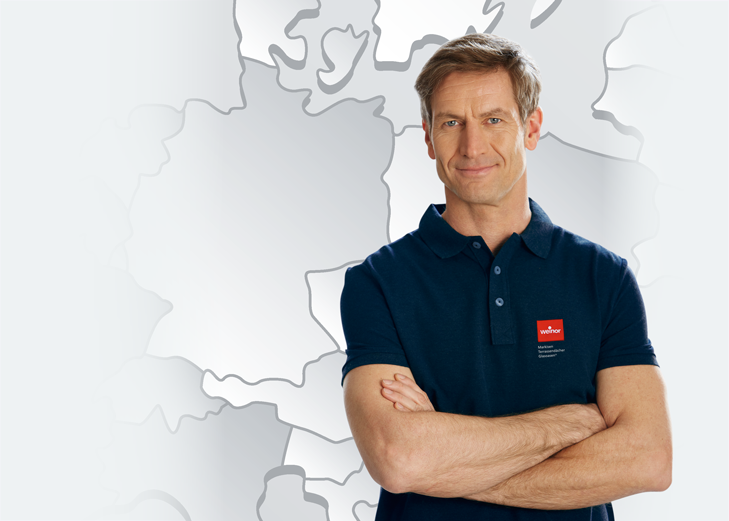 Find a weinor retailer showroom near you now.
High quality awnings for every preference.
Here you find the complete Weinor awning portfolio
Start search
Awnings for top mounting
No matter whether on a patio, a balcony or in your garden – an awning is ideal for maximising the time in your personal outdoor realm. It provides you with important sun protection on hot days. Moreover, a multitude of comfortable accessories such as heating and lighting for your weinor awning significantly extends your enjoyable time outdoors. Also, our models can be installed in the most varied areas. Therefore, you can discover patio roofs for wall mounting, for rafter mounting and attractive awnings for top mounting here.
Read on now and discover for which areas electrical awnings for top mounting are particularly well-suited.
Awnings for top mounting for protruding balconies and walls
weinor offers a large number of folding arm awning variants with semi-cassettes, full cassettes or without cassettes and attractive side awnings as dreamlike outdoor extensions for your home. Depending on your living situation, you have the possibility to have them mounted using various installation types. One of these is awning attachment on a ceiling.
Their attachment in this manner is attractive above-all for roofed balconies or overhangs. Equally, you can also have your model installed with awning brackets on the ceiling of a stable, roofed patio. The following weinor awnings can be installed on the ceiling:
Open awning for top mounting:
Topas is our entry-level model and provides wonderful shade reliably.
Semi-cassette awning for top mounting:
Semina is a classical semi-cassette awning, blends discreetly with most living styles and can be effortlessly mounted on the ceiling.
Cassette awnings for top mounting:
The awning fabric and all the technology in the cassette for Opal Design II, Smaila, Semina Life and Cassita II is protected like in a safe. Simply select the design you like best.
I / K / N / 2000 are not only suitable for ceiling installation, but also for wall niches
Kubata – our screwless model with cubic design for a modern feeling
Vertical awning for ceiling installation:
The VertiTex II can be effortlessly installed on the ceiling and function both as a window awning and a side ceiling-installed vertical awning for patio roofs and balconies.
Awnings for top mounting from weinor: Precisely adapted to your needs
All homes require an individual solution regarding the selection and installation of an awning. Therefore, weinor retailers accompany you from planning via installation to maintenance procedures for your outdoor project.
This means that you can shape your top mounted awning to match your outdoor living ideas. Read on and discover how!
You would like to pep-up your home with a top mounted awning? This is how to proceed:
Your retailer will be happy to advise you in detail regarding all models and options.
Your new awning with top mounting is directly installed at your home by the retailer.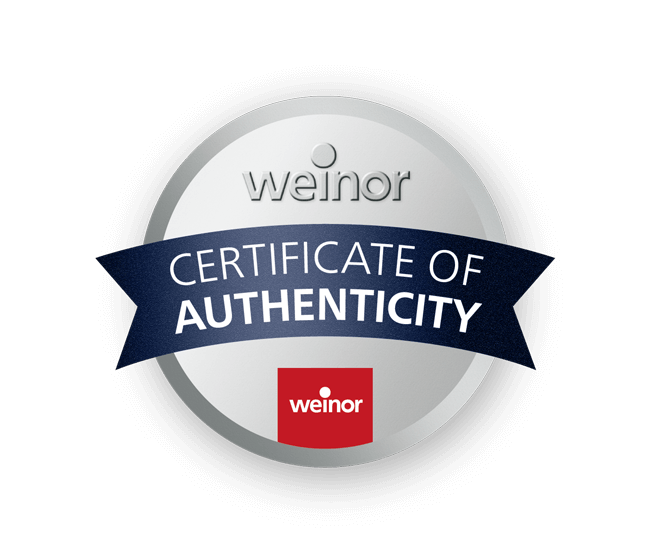 weinor certificate of authenticity -
an original product with certainty
Every weinor product has been delivered with a certificate of authenticity since January 2018.
Ask your retailer for it!
Please note:
We reserve the right to make technical changes as well as changes in range and product portfolio.
The weinor product range can vary from one country to the next.
All the illustrated equipment is weatherproof outdoor furniture and accessories.