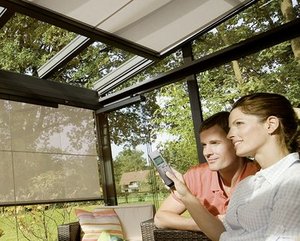 Easy to operate – clever controls
Just switch-off and relax – with a weinor BiConnect radio control it's even easier. Whether it's radio controlled or hard wired: it's not just your awning or patio roof's sun protection that can be easily operated but your lighting and heating too.
Radio/hard wired control and weather sensors: modules for more comfort and security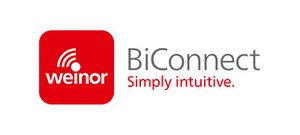 weinor offers different technologies to operate its awnings etc. conveniently. Several products are also available from weinor with classic gear handle operation. However, it is much more convenient to control the products by motor.
There are two options for how to control the drive: hard wired or via radio receiver. With the hard wired solution the command is sent to a wall switch via the connection/power lead. The radio version manages without a lead for the control commands and sends the signals to the receiver using radio waves. Both technologies allow for the use of sensors that reliably protect your weinor product from the weather and damage.
BiConnect radio control: a summary of your benefits
Secure radio signal even with thick walls
Direct feedback through control function on hand transmitter (Bi-directional radio)
Less electronic emission than with conventional radio technology
Protected radio frequency, no disruption from telephones or WLAN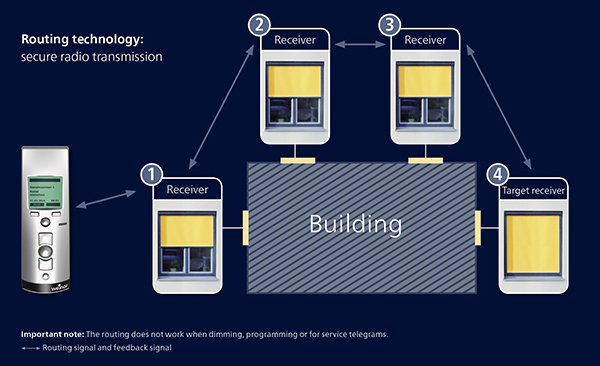 State-of-the-art routing technology: secure radio transmission
Routing is an important part of the weinor BiConnect radio control. This securely forwards the signals without any interference from the hand transmitter over several stations until it reaches the end receiver.
weinor BiConnect radio controls – one device for everything
Would you like to control your patio lighting, heating system or awning at the press of a button from your lounger? Then BiConnect from weinor is just the right solution for you. An easy to operate hand transmitter with or without display even sends the interference-free radio signal through metal facades and thick insulating layers thanks to routing technology.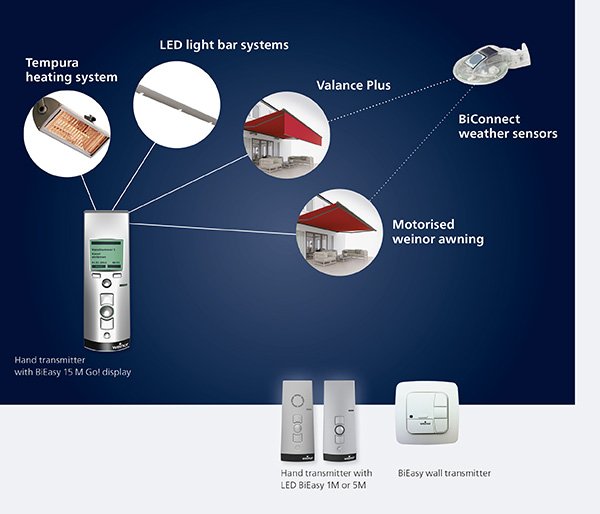 BiConnect – state-of-the-art electronics for patio comfort
If you want intuitive, easy operation of patio products, you could not do better than choosing the innovative BiConnect radio control from weinor.
BiConnect: a summary of your benefits
Easy control of sun protection products and accessories
Intuitive operation
Feedback through hand transmitter
Secure radio signal thanks to routing technology
BiEasy hand and wall transmitter secure, simple and convenient
Sun protection, lighting and heaters can all be conveniently operated using the BiEasy 1M, 5M and 15M Go! hand transmitters. They impress with their high-quality design and can be attached to a magnetic wall bracket.
The hand transmitter with BiEasy 15M Go! display is perfect for operating several devices. You can really easily activate individual or several awnings at the press of a button without any cabling at all using the weinor BiEasy radio wall transmitters.
Somfy RTS & Somfy io-homecontrol® – innovative and flexible
As an alternative to weinor BiConnect, you can also control your awning and patio technology with RTS or io-homecontrol® from Somfy.
Note: It is not possible to combine weinor BiConnect and Somfy io-homecontrol® or Somfy RTS control components!
If you decide in favour of a Somfy system, all the respective Somfy receivers, motors and sensors as well as all Somfy-compatible radio transmitters and smart home boxes can be used.
If your devices have a Somfy io receiver, you can also comfortably and easily dim our LED spotlights as well as the Tempura heating systems with Somfy io-homecontrol®.
Currently, this function is not yet possible with Somfy for colour LED strips and the weinor PergoTex II LED pergola awning with Somfy.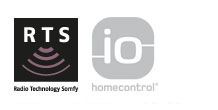 Downloads