Choose a retractable sun shade for a long-lasting shading solution
When faced with unpredictable weather, it is extremely important to find a versatile shading solution for your patio, balcony or window. Severe weather can damage awnings by fading the fabric or damaging the frame. If you are looking for a durable awning for your outdoor space in a location with unpredictable or severe weather conditions, you can find exactly what you need in the weinor retractable awnings range. Our retractable patio awnings and retractable deck awnings have retractable canopies designed with high-quality fabrics and arm mechanisms that enable you to close them when not in use.
A retractable awning can be used as a sun shade. On sunny days, you can extend your awning in order to enjoy your patio or balcony and simply retract the awning when you no longer need it. As the product is protected from weather damage when not in use, retractable awnings are an excellent long-term shading solution for your home or business. Retractable awnings are highly effective and do not lose their visual appeal. With a weinor retractable awning, designed with high-quality materials, it is unlikely that you will need an awning replacement for a long period of time.
Choose a trusted expert with 50 years of industry expertise and a network of specialised dealers
Depend on an award-winning, innovative company with 269 patents for unique designs
Invest in high-performing retractable awnings that are built to last
Customise your awning with over 140 different fabric patterns and over 200 frame colours
Rely on a customer-oriented service experience geared to design the perfect awning for your needs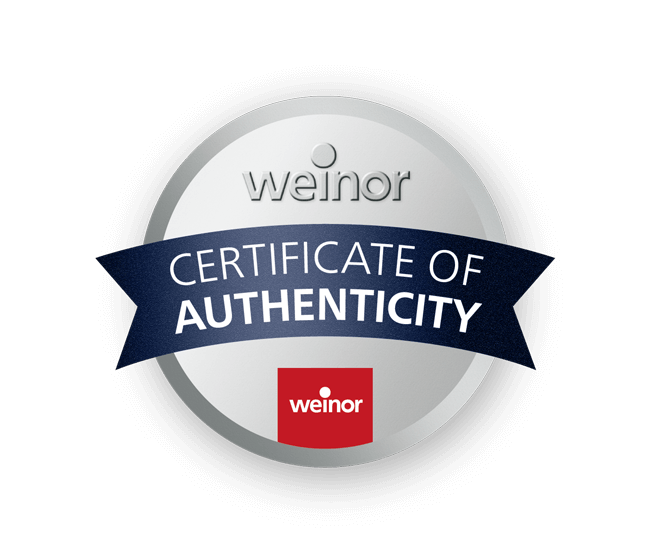 weinor certificate of authenticity -
an original product with certainty
Every weinor product has been delivered with a certificate of authenticity since January 2018.
Ask your retailer for it!