Experience from over
60 years' product development
Manufactured and installed to
match the building situation
Personal advice
from your weinor retailer
Sottezza II
A mood maker – also in terms of technology
Under-mounted conservatory awnings for cosy flair
Enjoy relaxing times under your patio roof – this is the promise that is kept by your Sottezza II. The decorative inside shadowing is elegant, sleek and understated – and suitable for almost every patio roof. The Sottezza II quite simply invites you to relax. And that's what you'll be able to do. That's because this awning reduces the development of heat under the glass and provides for feel-good temperatures – also in the summer. In the cooler seasons, the warming solar rays are used to heat up your patio area. At the same time, the Sottezza II also provides effective glare protection.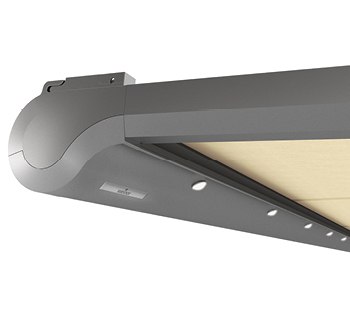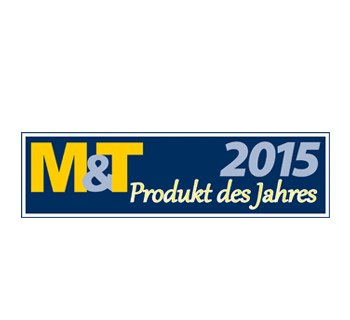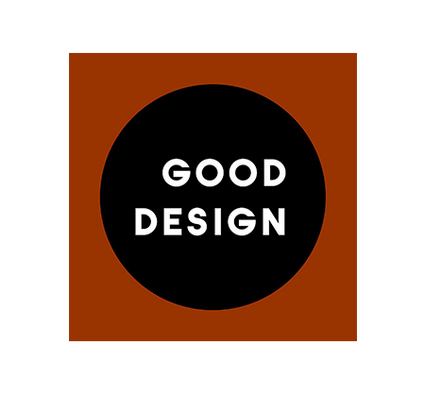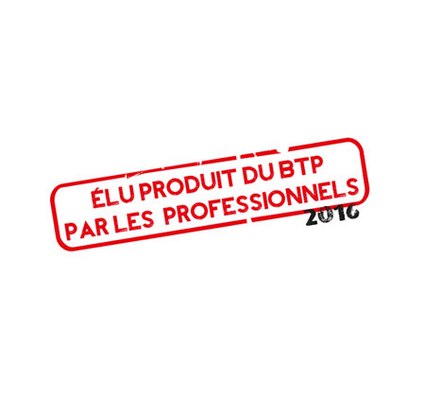 At a glance
Under-mounted conservatory shading
LED light integrated in the cassette
Clever versions: Stretch and OptiStretch
171 fabric patterns and more than 200 frame colours to choose from
Product-Highlights
Reliable rope clamping system from the range of conservatory awnings
The tried and tested rope clamping system also ensures even fabric deployment as well as fast and easy installation with the Sottezza II.
Clever Sottezza II versions – Stretch and OptiStretch
With the Sottezza II OptiStretch, the fabric is positioned securely in the side channel – just like a zip. This ensures that the fabric remains taut, without its edges hanging over sideways. With the basic version of the Sottezza II Stretch, the fabric is clamped firmly on two sides. A strong rope clamping system with pulley technology minimises the fabric sag and reduces the risk of the edges of the fabric hanging over sideways to the minimum.
Elegant design – LED lighting integrated in the cassette
The cassette with the integrated LED lighting blends discreetly into the architecture of the patio roof.
For high winds
The Sottezza II excels due to its high wind resistance. It consequently copes easily with winds up to force 5 on the Beaufort scale.
Sottezza II / LED Picture Gallery
Conservatory awning weinor Sottezza II
Conservatory awning weinor Sottezza II
Conservatory awning weinor Sottezza II
Good Form Award weinor Sottezza II
Conservatory awning weinor Sottezza II
Conservatory awning weinor Sottezza II
Conservatory awning weinor Sottezza II
Label D'Or weinor Sottezza II
Conservatory awning weinor Sottezza II
M&T Produkt des Jahres weinor Sottezza II
Conservatory awning weinor Sottezza II
| | |
| --- | --- |
| Stretch max. width | 6 m (up to 4 m projection) |
| Stretch max. projection | 5 m (only up to 4.5 m cassette width) |
| Stretch max. surface area of the fabric | 24 m² |
| Multi-section units max. width | - |
| Gear drive | - |
| | |
| --- | --- |
| OptiStretch max. width | 6 m |
| OptiStretch max. projection | 5 m |
| OptiStretch max. surface area of the fabric | 30 m² |
| Multi-section units max. width | - |
| Gear drive | - |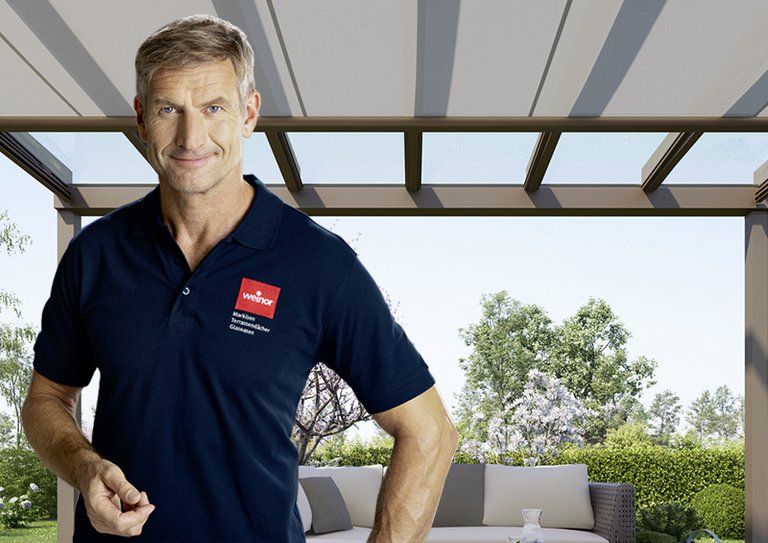 Sottezza II / LED: Good to know before you buy!
Benefit from the experience of our weinor retailers – up-to-date, professional and practical!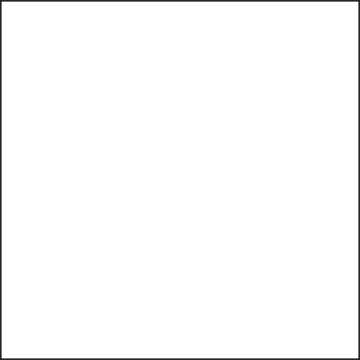 What to do when it's freezing?
It is better not to operate the conservatory awning in frosty conditions to prevent damaging any frozen components. However, if this is necessary in practice: it is better to keep an eye on the system! So you can stop quickly if something is frozen and prevent any damage. Our tip: Switch off the weather sensors on your product in frosty conditions to prevent it retracting and extending when you are not at home. Conservatory awnings can also withstand higher wind speeds (please see the product data for details). Despite this, it is better to retract the awning before strong winds develop and keep it closed. This reduces the risk of your awning being damaged by strong gusts of wind. If you supplement your system with a wind sensor, it will do this job for you. It's best to avoid wetness
The awning's basic function is to protect against sunlight and heat. It's better to retract your sun protection when it's raining. As wet fabrics may develop more wrinkling, water and mildew stains. It is also possible that honeycomb patterns may appear. If your conservatory awning does happen to get damp, it is best to extend it to dry out as soon as the weather has improved. Fabrics react to the environment
Fabrics reach to external conditions. If it is dry or damp, warm or cold outside, the awning fabric may shrink or expand – only minimally of course. The size of the system also plays a part. These external factors may cause waves and folds in the fabric. These folds are quite normal though and do not damage the awning.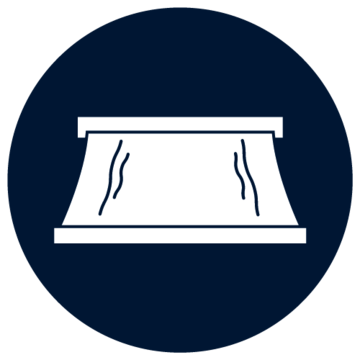 Wrinkling – no need to worry!
Some irregularities simply cannot be avoided due to environmental and production reasons – for example, creases, bulging and wrinkling due to the different winding diameter on the roller tube. Rippling and overstretching in the seam area or honeycombing may also occur. But we can reassure you: you are dealing with a high-performance fabric – small blemishes do not impair its functionality. They are therefore not a reason for rejection or grounds for complaint. More information at www.weinor.com/fabric_qualities. What one person finds loud and disturbing is barely perceptible to another. This also applies to the creaking noises your product makes. When the temperature changes, your conservatory awning's material expands or contracts – a natural process that cannot be avoided. Noise also occurs when retracting and extending the awning, which can be louder or quieter depending on the building situation. In any case, the creaking and running noises do not affect your conservatory awning's functionality. Keeping an eye on the product
You should take a closer look at your conservatory awning every now and then: does everything look good and is it all firmly in place? If you notice anything wrong, contact your retailer. But even if you don't notice anything wrong, we recommend having your conservatory awning serviced annually.
It is advisable to clean your construction at least once a year, or even twice a year in the case of heavy use. Please refer to our "10 tips on awning fabrics" brochure for this.
Our tip: If you are not at home for a longer period of time, retract your conservatory awning and simply switch the automatic system to "OFF". This will avoid the awning from being retracted and extended unsupervised. The awning that grows with you
If, after installing your conservatory awning, you find that you would like to have even more comfort after all, additional products are available within weinor's modular system and are easy to retro fit. Whether it is an automatic weather system, a heating system, lighting or a new fabric – everything fits perfectly together. The additional options do of course have technical limits. Fortunately, these are just exceptions, which we are working on … Reliably weather sensitive
Even if you don't have your conservatory awning in sight, weather sensors ensure that your radio-controlled awning can automatically extend when the sun is shining and retracts again when it is rainy or windy. As a result, the climate on the patio and indoors remains more pleasant. The risk of water or storm damage to your product can be reduced with the right sensor. For an awning to work properly, all the components must work together in harmony. Even minor unevenness on the house wall can mean that awnings do not run as smoothly as they should. weinor awnings react to the condition of the installation surface and compensate for this if necessary. The joints that then appear do not have a negative effect on your awning's function though – quite the opposite!
Downloads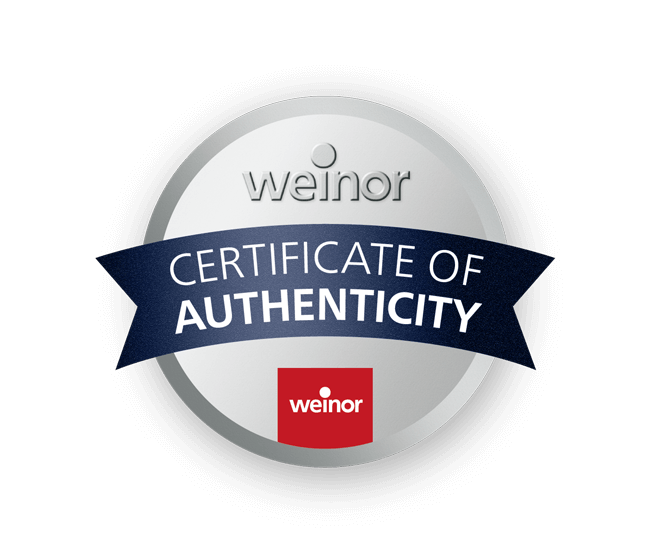 weinor certificate of authenticity -
an original product with certainty
Every weinor product has been delivered with a certificate of authenticity since January 2018.
Ask your retailer for it!
Now see the Product live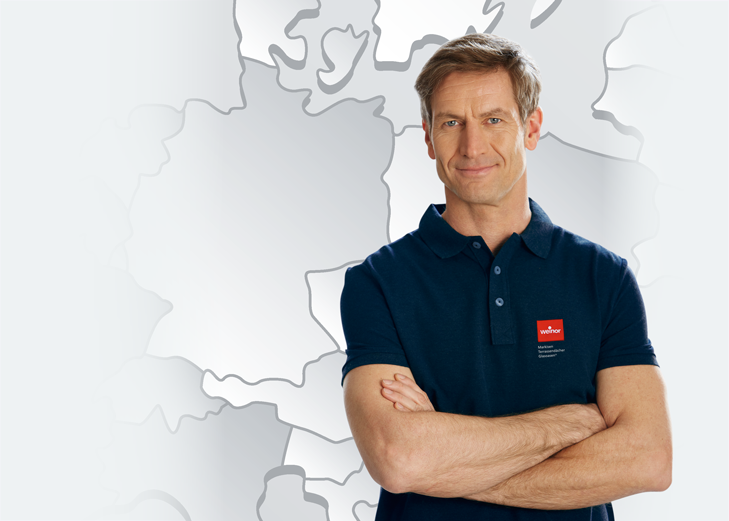 Find a weinor retailer showroom near you now.
High quality awnings for every preference.
Here you find the complete Weinor awning portfolio
Start search
Please note:
We reserve the right to make technical changes as well as changes in range and product portfolio.
The weinor product range can vary from one country to the next.
All the illustrated equipment is weatherproof outdoor furniture and accessories.