Weather protection by the water
The protected patio area at the Waterfront Café in Benson / Oxfordshire was extended by a PergoTex II pergola awning from weinor.° A translucent fabric from the Pergona collection allows pleasant daylight to shine through into the dining area.
One extension after the other: the bistro west of London situated idyllically next to the Thames had already had a weinor patio roof mounted on part of the patio in 2013. As a result, guests were already protected from the rain, wind etc. from above. The extension into a Glasoase then followed in 2014. The patio roof was fitted with sliding glazed elements so that guests are also protected from the rain and wind at the sides. The benefit of this system: it can be fitted under the existing roof without too much effort and provides maximum transparency outwards as only a few frame profiles are required. For the Waterfront Café this means: the dining area has been expanded and is less dependent on the weather, guests can spend more time on the patio and are still close to the beautiful surrounding area thanks to the glazing.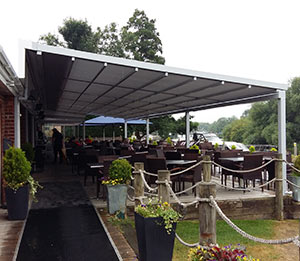 After the patio roof and Glasoase, the pergola awning followed
Encouraged by the positive experiences and increasing numbers of guests, the Waterfront Café then wanted to fit the rest of the patio with a 17.5 x 5.5 metre weather protection construction. They were instantly impressed by a new weinor product that the installing company and weinor partner Eden Verandas was offering: the PergoTex pergola awning. The highlight here is that the fabric can be folded open when the weather permits, just like a convertible car. As a result, guests can enjoy the sun and fresh air. If the weather changes, the fabric is closed again thus offering reliable protection from the wind and rain. As the material is waterproof and even withstands the wind thanks to the sideways running. Nobody has to leave the patio.
Sophisticated installation
Experts from Eden Verandas and weinor met up several times beforehand to plan the project together with the customer. One particular challenge was connecting the new pergola awning to the existing Glasoase. The construction also had to be installed while the business was still open. The construction should be completed in no time at all so that guests are not disturbed by the work for too long. Everything went perfectly and the owners of the restaurant business are very satisfied – with the product, installation and service.
Translucent fabric
The customer was also impressed by the new Pergona translucent fabric. Not only does it have an extremely smooth, tear-resistant and waterproof surface over which rainwater can be reliably drained off. But Pergona also has higher light transmission and at the same time prevents dazzle from the sun. Guests can therefore enjoy their food and drink in pleasant light under the closed PergoTex II pergola awning. It never gets too dark under the fabric.
Project installation and photos: Eden Verandas