Weather protection for the restaurant patio
The 5-star Hotel Prinz von Hessen in Friedewald near Bad Hersfeld has covered its restaurant patio with two pergola awnings from weinor. As a result, hotel guests and restaurant goers can use the patio for longer and are well protected from all weathers.
Anyone treating themselves to a stay at "Prinz von Hessen", one of 12 family-run 4 to 5-star hotels belonging to the hotel entrepreneur Göbel with 92 luxurious rooms and 13 spacious suites, is blown away first of all by the impressive setting. The hotel is part of a water castle from the late 15th century and was used by Hessen's landgraves as their administrative seat and hunting castle. A castle hotel has now been integrated since 1997, which is a combination of the historical and new building structure including modern interior architecture. The ensemble is nestled into the natural paradise of Waldhessen with superb conditions for sporty activities and abundant opportunities to enjoy the scenery outdoors.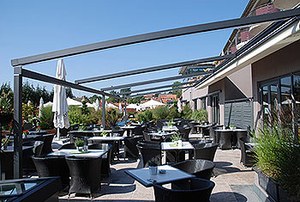 The right solution: pergola awning
A patio roof was considered for the outdoor area to enable guests to stay out in the fresh air for a long time in the hotel grounds too. However, for the owner couple Markus and Andrea Göbel it was important that guests are still close to the outdoors, despite weather protection, i.e. that another room is not created that only offers restricted, unobstructed views. In talks with Thomas Ritz, a qualified carpenter and timber merchant from the neighbouring town of Eiterfeld who offers sun protection and glasshouses among other things, a suitable solution was found really quickly. Ritz has a pergola awning from the manufacturer weinor in his range. Its advantage is that it doesn't just offer reliable sun protection but also defies the wind and rain. While a normal awning has to be restricted in stronger winds or rain, the PergoTex II can remain extended. Restaurant guests at the Schlosshotel can therefore continue enjoying their food and drink outdoors, regardless of the weather.
Dimmable LED spotlights create a feel-good atmosphere
The hotel operators also found other arguments very convincing. For example, dimmable LED spotlights can be integrated into the transoms. They emit a pleasant, atmospheric light that creates a wonderful feel-good mood on the patio in the evening. Rainwater is reliably drained off so that guests definitely keep dry too. The high-quality, award-winning folding construction design is not just elegant. It also resists winds of up to wind force 8. Thomas Ritz was therefore instructed to equip the patio with a PergoTex II. He installed two pergola awnings with LED lighting next to each other to protect the largest possible area outdoors. They can be operated using the hand-held radio transmitter. The LED spotlights can also be dimmed using this.
Longer use of the patio
The result is a total success. The pergola awning is integrated harmoniously into the hotel's back facade. "With this system we are offering our guests real value added. They can use our patio for much longer, whatever the weather. Naturally, this also makes the dining experience we offer far more attractive," says owner Markus Göbel delightedly. So he can now reckon with an increase in demand from guests who want to enjoy a longer stay in the fresh, healthy air on the northern edge of the Rhön.
weinor partner involved in this project: Schreinerei Ritz / Eiterfeld
Click here for Schlosshotel Göbel in Friedewald.