Glasoase with a modern look
If you enjoy spending longer periods on the patio, you want more than just a roof over your head. The weather protection should also meet high design standards, be designed individually and match the entire house visually. Precisely this wish has now been fulfilled by a builder-owner family from Erlensee in the Hanau region which has had a cubic Glasoase erected in its outdoor area. With its linear design, the patio roof construction conforms perfectly to the house's contemporary architecture.
"During the five years after our detached house was built, we made do with provisional arrangements, for example sunshades or hanging sunshades. However, they neither provided rain protection nor were they particularly windproof", as the builder-owner Alexander Turowski explains. As their home has a predominantly linear appearance, the owners wanted matching sun protection for their patio. They found it at the weinor retailer's Tomasulo in Weinstadt close to Darmstadt.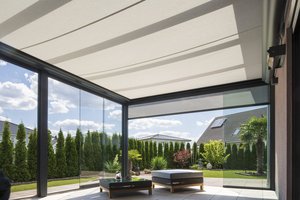 Cubic glass patio roof matching the overall appearance
The expert recommended the Turowskis a Glasoase based on the cubic glass patio roof Terrazza Pure from weinor. This is a linear patio roofing made of glass, whereby rain water can nonetheless drain off reliably. This works with the help of a clever glass support system with an integrated pitch which cannot be seen from the outside.
To provide even better weather protection, the patio roof can be augmented with glass sliding walls. They are completely frameless and therefore offer a great deal of transparency, also enabling you to make it cosy in the glass patio room when it is windy and raining. When the sun returns, all you need to do is simply open the sliding glass doors completely.
A must: sun, privacy and glare protection
Things can sometimes become rather hot under a glass construction in case of strong insolation. Here, for example, an under mounted conservatory awning helps. It wards off the heat, conveys a homely atmosphere and is easy to clean because it is protected by the patio roof. In addition, wind-resistant window awnings ensure external privacy, glare and sun protection on all sides.
A pleasant atmosphere with a coloured LED and heating system
Integrated coloured LED strips immerse the patio in up to 48 colours as well as three different whites and are dimmable, the patio heating can be adjusted. They can be operated using the same awning controller as for the conservatory and window awnings – very comfortably at the push of a button. "The fully equipped Glasoase is an investment which really pays off for us", as the impressed builder-owner resumes.
weinor partner responsible: Tomasulo / Weiterstadt