Sun protection down under
weinor fitted a residential complex in Sydney Harbour with 157 Cassita II LED cassette-awnings: great sun protection for a great district!
Anyone who lives here, is really to be envied: the former Walsh Bay harbour facility was transformed into a district with residential units, restaurants and shops roughly ten years ago. You have an impressive view over Sydney's harbour district from here. The recently renovated buildings therefore have an exquisite location. The residents even have their own boat moorings around the old developed pier.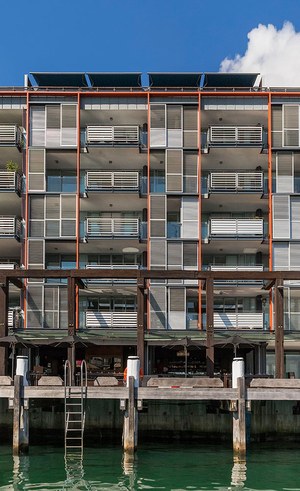 An exclusive residential area
The 157 Cassita awnings were fitted in four buildings in total, two of them on piers 6 and 7, the others right on the waterfront. The two buildings on the piers have 140 apartments on six floors. The basement floor is under the water's surface and accommodates a parking level. The top floor consists of two penthouse apartments.
Fitting with wind sensors and LED lighting
All the awnings were assembled in the space of four weeks. And the residents are impressed: by both the awning design and integrated LED light bar that many of the residents used as an option for themselves. They are colour coordinated to the cassette. The LED spotlights are extremely energy efficience and have a guaranteed operating life of roughly 30,000 light hours. Now they can spend the evenings on their balconies in a pleasant light and enjoy the impressive harbour panorama. And because a stiff breeze is often to be reckoned with by the sea, the Cassitas were equipped with wind sensors so that they retract at the right time, whenever it gets too windy
The awning goes perfectly with modern home interior trends
It is not surprising that planners decided to use Cassita II awnings. It has a slimline design and is therefore the perfect complement to the harbour district's modern architecture. Its purist look is due to a technical feature: the folding arms are positioned directly on the cassette's headplates. As a result, the awning has to be installed with just two brackets. The flat, oval aluminium caps, which enclose the cassette at the sides, are also beautifully shaped. The harbour panorama can be enjoyed particularly intensely of course in this stylish balcony setting.
Photos: Hamilton Lund
Note; the photos shown on this page may only be used with weinor GmbH & Co. KG's consent.