Sun protection awning for the passive house
The red Opal Design II LED cassette awning from weinor has a leading role for a modern house in south-Hessian Messel close to Darmstadt: As a high-quality sun awning with timeless design, it provides pleasant shade. At the same time, it provides strong colour accentuation for the facade. With its dimmable LED lighting, the electric awning spreads atmospheric light in the evening.
After his passive house was ready in 2014, builder-owner Oliver Nixdorf helped himself for several years on his 30 m2 patio with a sunshade by the pool. However, this solution was not comfortable in the long-term and the shaded area was far too small.
The Opal Design II LED aluminum awning from weinor met all of the owner's size, quality and design requirements. Oliver Nixdorf decided in favour of the 26 m2 single-section construction. The weinor retailer Tomasulo had drawn the builder-owner's attention to the classical awning. "The Opal Design II is a top product which we are happy to recommend due to its resilience and design", as the sun protection specialist explains.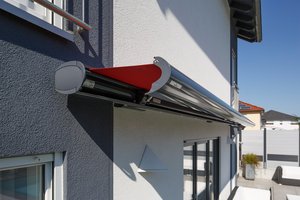 Security and resilience: strong arguments for a strong patio awning
Diverse product highlights convinced the builder-owner: for example the patented end cap closure which indicates that the closed awning is reliably protected against the wet and impurities. But also the weinor LongLife-Arm with its especially durable high-tech belt or the wind lock safety device, which prevents the outdoor awning from being lifted during surging wind, provided strong arguments in favour of the cassette awning.
A special atmosphere with integrated LED lighting
In the evenings, the LED lighting integrated in the cassette awning provides atmospheric, warm white light. With an operating life of some 30,000 hours, the LEDs are extremely energy-efficient. Just like the electric awning with a motor, the lighting can be very comfortably operated using the BiConnect weinor awning controller. Here, the LED spotlights can even be dimmed steplessly.
Responsible weinor partner: Tomasulo / Weiterstadt
www.tomasulo.de/