Discover a great range of weinor awnings and weinor awing solutions for your home and garden.
As a home-owner, you know the importance of cost-effective investment to add value to your home. At weinor, we have been in business for over fifty years now, helping people just like yourself make the most out of their investment budget, with an entire range of awnings for homes and businesses.
Electric awnings for ease of use
Our electric awning range is carefully designed to be easy to use, with the touch of a finger to raise or lower awnings and canopies to shade you from the sun, or to let in a bit more light. With our motorised awnings, you no longer have to crank manually to extend them or reel them back in. Just like with our weinor blinds, this automatic awning operation is a nearly silent one, as well as being aesthetically pleasing for the casing.

A great range of sunshade and awing solutions
Whatever your needs, you are sure to find a solution with weinor products. We have over 170 awning fabrics, either to blend into your residential décor, or on the contrary, to make a statement. With 200 frame colours, you are also sure that your awning solution will be the right one for your home or your business. Our awning guide will assist you in your choice, loaded with photos and technical information and specifications.

Dealers with qualified personnel
At weinor, we do not sell online. Our specialized dealers have qualified personnel to assist you with this ever so important choice of a sunshade solution for your home or your business.

Benefits of weinor products at a glance
Customised solutions for electric awnings, motorised awnings and canopies
Strict quality control for your peace of mind
Quick delivery options to enjoy your weinor awnings this summer
174 different fabrics and over 200 different frame colours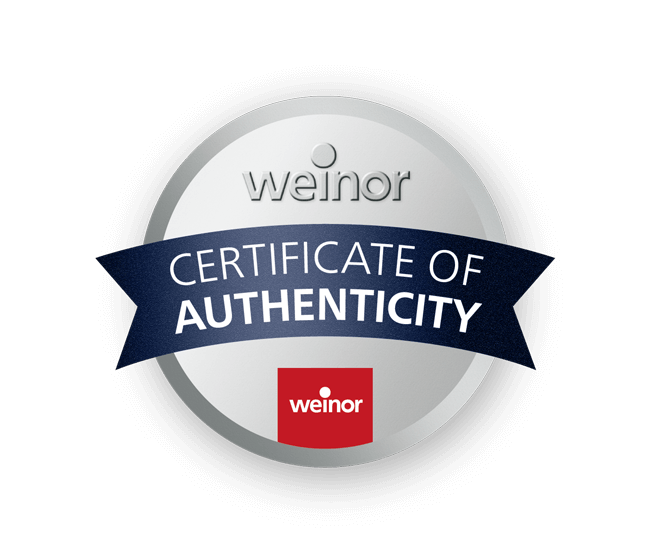 weinor certificate of authenticity -
an original product with certainty
Every weinor product has been delivered with a certificate of authenticity since January 2018.
Ask your retailer for it!
Please note:
the weinor product range can vary from one country to the next.
All the illustrated equipment is weatherproof outdoor furniture and accessories.